Leelikesbikes en de 'pumptrack'-trend, recent ook een artikel in de Mountainbike Action. Lee McCormack is de auteur van "Mastering Mountain Bike Skills" en op zijn blog voedde hij de scene door veel te schrijven over pumptracks. Wat een kettingreactie veroorzaakte van geinteresseerden die ze ook wilden bouwen. Lee heeft zijn kennis wederom omgezet in een leuke publicatie. Deze keer online, een eBook "Welcome to Pump Track Nation". Voor slechts $9.99 (Paypal) ontvang je een 25 pagina tellende bijbel die alle vragen beantwoord over het bouwen van je eigen pumptrail.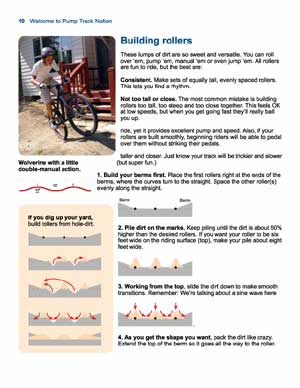 Contents
– Pump Tracks are SO cool
– What is a pump track
– Know your pump track history
– Why build one?
– Convincing the authorities
– Choosing a location
– Two key ideas
– Grading and drainage
– Watering
– You'll need these tools
– Let's talk dirt
– Laying out your track
– Building berms
– Building rollers
– Building inerchanges
– Build in this order
– Good shovel technique
– Riding your track
– Sample layouts (eight of 'em!)
– Liability waiver – sexy!
» Lee McCormack's blog Leelikesbikes
» Koop "Welcome to Pump Track Nation"
» Alle posts door Lee over pumptracks
» Pumptrack filmpje 14MB (safe as…)